SharpSpring is launching a new Visual Workflow Builder that makes it easier than ever to create automated workflows. With the Visual Workflow Builder, you can:
Make automated workflows come to life with intuitive shapes and positioning.
Point and click to build and expand automation tasks with branching logic.
Clearly visualize the workflows that drive your leads to conversion.
Why Go Visual?
Picture this: You've just created a workflow in SharpSpring for your next big marketing campaign. You connect with your team to get them up to speed on the buyer's journey you've mapped out.
But as you're explaining the automated masterpiece that you've created, you start to notice something… most of your teammates have on blank stares and are scratching their heads. Eventually you toss your hands up and draw a diagram of your workflow. At last, you hear the collective "Ooooh, I see." You breathe a sigh of relief. Finally they get it.
If this scenario resonates with you, then you'll likely understand the importance of visuals for interpreting complex automations. It's much easier to navigate your workflows when they're displayed in a visual format, such as a chart or a diagram.
With that in mind, SharpSpring has created a Visual Workflow Builder. This new feature offers an easy way to build automated workflows through intuitive flow-chart diagrams. The Visual Workflow Builder harnesses the same branching logic and mechanics of the original workflow method and expands on it with colorful, intuitive visual elements. The result? A robust, user-friendly tool designed to boost your campaign success.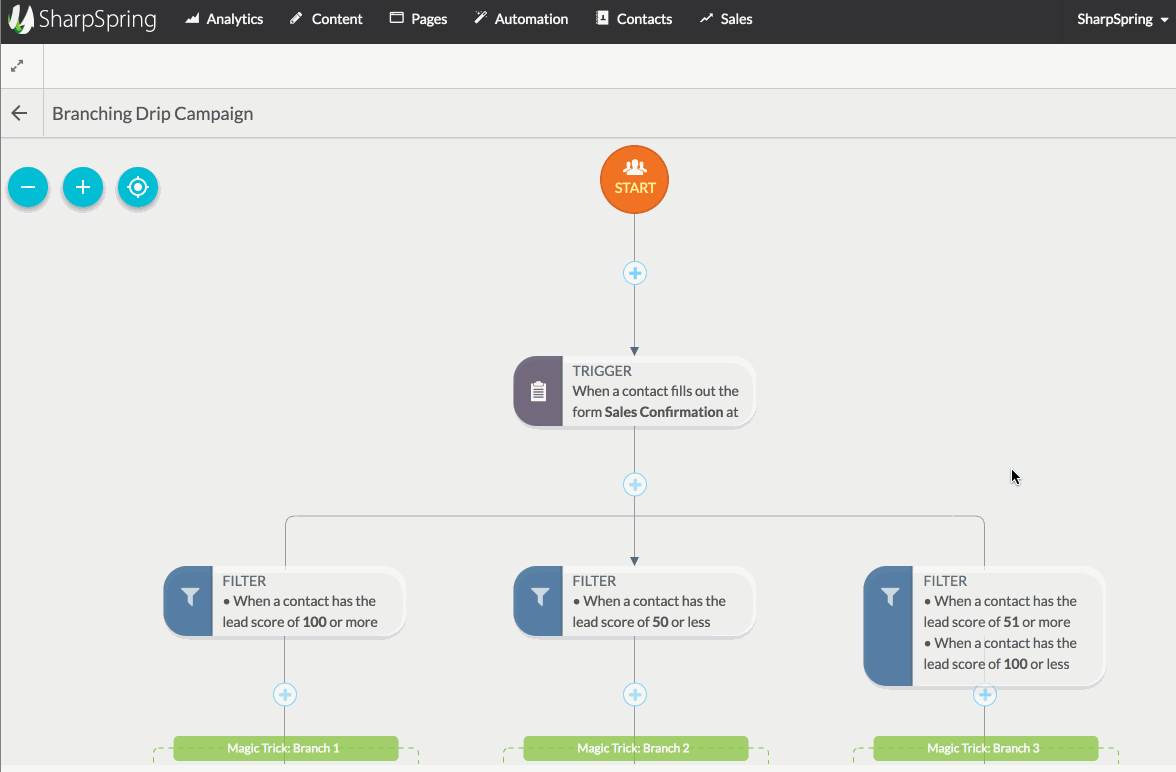 Of course, if you prefer to continue using Action Groups to create your workflows, that method will still be available.
Visual Workflow Builder Gives You Superpowers
Are you ready to become an automation superhero? Here's what the the Visual Workflow Builder will empower you to do:
Visualize.
Watch your workflows build on-screen. Visualize the journey with intuitive shapes and positioning. Illustrate specific touch-points in the buyer's path to conversion with colorful shapes and icons. Bam!
Optimize.
Point and click to craft your workflows. Build and expand even the most complex automation tasks with branching logic. Zoom in and out and shift positioning for a streamlined user experience. Kapow!
Convert.
Construct workflows that save time and eliminate confusion. Focus your energy on successful marketing campaigns that drive leads to conversion. Do more of what you do best. Zowie!
Designed With You In Mind
The Visual Workflow Builder was designed for marketers like you. Ultimately, it enhances your marketing technology stack and lets you concentrate on converting your leads.
---
Still have questions about how the Visual Workflow Builder will boost your campaigns? Check out this press release to hear SharpSpring agency partners weigh in on the new feature. You can also watch the video below of our live Q&A session on Facebook, which features SharpSpring Product Expert Bryan Tobin and Marketing Manager Michelle Moore who share their tips on how to get the most out of the feature.