Who says customer loyalty marketing is a lost art? Here's why customer loyalty is still a driving force in digital marketing – and how automation makes it more achievable than ever.
How customer loyalty marketing has changed
Imagine it's 1953. You decide it's time to buy a brand new, state-of-the-art TV. You walk into Sears, ready to buy. What happens next?
Most likely, a friendly salesperson will walk you through the buying process. She'll enthusiastically explain all the features and benefits of a home television set. You'll leave the store feeling like you got a great deal, from a brand that cares about you.
Now snap back to the present. You're hit with a tidal wave of cynicism about advertising, impatience with the sales process, and the impersonal nature of internet purchases. And even though TV sets have come a long way since 1953, you're a lot less excited to buy one.
That's why customer retention and customer loyalty marketing are making a comeback. Brands and marketing agencies have realized that customer experience matters. If you know the customer and understand their needs, then you can offer a better experience. And marketing automation makes it easy to run customer loyalty campaigns on a grand scale.
Marketing automation leads the customer loyalty revival. Instead of hammering your audience with mindless messages, now you can deliver targeted and meaningful interactions across customer segments. It's making one-to-one customer relationships possible again, this time in the digital space.
So how are leading brands use marketing automation to delight customers and keep them coming back? Read on to find out.
What Is Customer Loyalty Marketing?
Customer loyalty is the result of repeated positive emotional interactions with a brand. So customer loyalty isn't something you have. It's something that you do. Every transaction and interaction with a customer is a chance to build your relationship and improve customer retention.
That means emphasizing a positive customer experience at every stage of the marketing funnel: from onboarding, to sales, to customer support.
These positive interactions ensure that you're the chosen favorite versus other brands. If your relationship with customers is strong enough, they will refer you to friends and advocate for your brand. And guess what? 83% of American shoppers take those word-of-mouth recommendations seriously.
What are the benefits of customer loyalty?
Here are a few more statistics about the benefits of customer loyalty:
Your loyal top 10% spend 3x more per order than the lower 90%; your top 1% of customers spend 5x more than the lower 90%. – RJ Metrics
The cost of acquiring a new customer is 5x-25x higher than the investment required to keep an existing customer. – GetResponse
Loyal customers are worth up to 10x as much as a first purchase. – MarketingTechBlog
A 5% increase in customer retention can increase a company's profitability by 75%. – Bain & Company
The numbers speak for themselves. When you make loyalty part of your marketing strategy, you'll be rewarded with high-CLV customers at a low cost..
Retaining your customers helps grow your business with upsells and cross-sells, but also saves on training and implementation costs. While your loyal few are spending, referring, and engaging more, you're simultaneously spending less and earning more. It's the Pareto principle in action: 80% of your results will come from 20% of your efforts. So double down on that 20%.
But you can't just wave a magic wand and create that loyalty out of thin air. Customers are only loyal when you offer a better experience than the competition. Kampyle research found that 87% of surveyed consumers think brands need to put more effort into providing a consistent experience. And 68% of customers leave because they feel brands are indifferent to them, reports Kapow.
That means there's room for improvement.
Your product may be exceptional, but if your service and support is awful, then customers will leave.
As the digital realm becomes more personalized, brands with superior customer experience are winning the loyalty of their users.
The challenge is this: How do you create consistently authentic engagements across channels for a growing customer base you've never met? How do you scale up, without losing the personal touch?
1) Identify and Support Brand Advocates
Marketing automation helps you track and reach brand advocates. Target these micro-influencers with relevant content and offers. They'll share with enthusiasm, effectively amplifying the impact of your messaging.
Not sure who's loyal?
Use the lead scoring capabilities within marketing automation to identify those who regularly download, share and comment about your content.
Beyond the value of a repeat customer who's willing to praise you to others, acting on your behalf deepens brand commitment. Invite vocal fans to join a rewards, referral or affiliate program. You'll show your appreciation for their customer loyalty and incidentally, encourage repeat purchases.
Above we see streetwear giant Supreme pick up 150,000+ likes for an Instagram post. With 5.6 million followers, the brand cultivates a loyal following while also emanating a positive energy that is contagious for future customers.
2) Personalize the Customer Experience
Consumer psychology is clear: modern shoppers prefer brands which treat them as valued individuals.
Marketing automation lets you orchestrate personalized, cross-channel campaigns that make your audience feel special at every touchpoint. And integrating your CRM with your automated marketing lets you pack an even more powerful punch. You can finally deliver the right message at the right time.
Instead of guessing at your audience, you can track customers across different communication channels. It's like an old-fashioned salesperson who remembers your favorite color and when your child's birthday is – but with all the convenience of modern commerce.
Start by developing buyer personas based off of your existing customer base and your target market. Then send triggered messages to engage people with personalized, relevant content and offers.
Pictured above is a targeted Facebook post by Udemy, an online academy. This messaging is set up to appear minutes after someone searches for "digital photography tips." Udemy leverages the personalization of marketing automation to reach interested parties when they're in the buying mood.
Without marketing automation, there's simply no way to deliver 1:1 interactions and ensure customer loyalty on the same level.
3) Gather Customer Feedback To Improve Relationship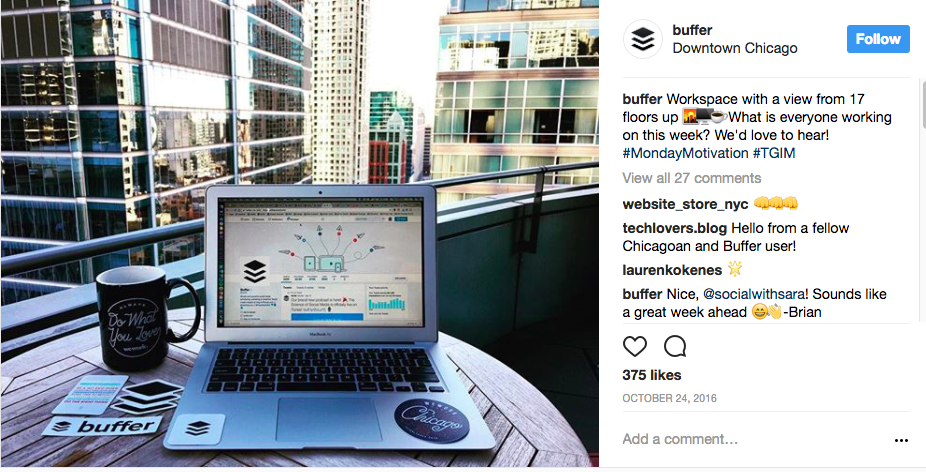 Marketing automation is the easy way to keep your finger on the pulse of your customer loyalty.
Segment customers into separate nurture streams, then ask them how they feel about their current company relationship. Then you'll know where to improve and how to minimize unfavorable experiences. Positive experiences are the key to customer loyalty marketing – so you need to know what your customers want and what they'd like to change.
Social media tool Buffer definitely knows the value of garnering online feedback. Here they encourage shout-outs from their followers. Buffer knows that customers want their voices to be heard, so they open the door for dialogue in a fun, unique way.
This "working" screenshot humanizes the brand while effectively encouraging customer loyalty.
4) Deliver Relevant Content – Always
Who do we love to talk to? The people who listen to us and have something interesting to say in turn.
According to Gallup, B2B marketers with high customer engagement scores achieve 50% higher revenues, 34% higher profitability, and 55% higher share of wallet than other companies. And the secret to high engagement is sharing content that your customers actually want to see.
Instead of blasting your audience with basic, impersonal content like newsletters, target them with pieces suited to their engagement history and behaviors. Use the customer information stored in your marketing automation platform to sustain and grow the customer relationship. With the right content, you'll improve engagement levels, sales… and customer loyalty.
Content guru Neil Patel always brings fresh insights to the inbox, drawing on a massive library of evergreen content. Neil's automation platform uses behavioral cues and engagement history to deliver timely content with accuracy. Case in point: a friend received the pictured email after she searched for "content marketing" several times. The relevant content earned an open and a conversion.
With personalization driving customer engagement, the vehicle is better content that just won't miss.
5) Create a Seamless Customer Experience
Customer loyalty is a result of consistent, quality attention throughout the entire lifecycle. So don't forget your customers after the first sale. Remember – loyalty in marketing is a continuous process, not a one-off action.
Maintain a nurturing dialogue from end-to-end. Give people a reason to stick around after the check-out by sharing content especially meant for them. This special content includes things like:
Regular newsletters
Special discounts
Event invites
Surveys
Offers for rewards and referral programs
Exclusive content (like webinars, eBooks, etc)
Use your social media channels, too. As Business News Daily reports, "customer service and social media have melded together". People will use your social profiles to follow up on orders, ask questions, and share their experience with your product. So make sure you're online to reward your new customer advocates!
The analytics from your marketing automation tools will inform these post-sale campaigns, which are powerful predictors of customer advocacy and customer retention.
Amazon's Audible knows how to appeal to post-purchase users. Language like "Your exclusive invitation expires" establishes a sense of exclusivity (and an expiration date) to drive sales with lapsed customers.
Because of prior purchase history, Audible feels comfortable offering a whole year of service at a higher ticket value, one cleverly disguised as a discount. Automation platforms enable companies big and small to keep track of each customer throughout her customer journey.
Changing the Channel with Marketing Automation
As we've seen, leading brands use marketing automation to make customer loyalty marketing work across all their communication channels. Customer loyalty is a by-product of paying close attention to your audience.
From personalization to feedback, from sending custom emails to sharing user-generated content on social media, making the customer feel valued is all about reaching the individual. When you take the time to understand your customers with marketing automation and behavior tracking, everyone wins.
Marketing automation is simply the most effective way to stay current and engaged with your audience wherever they go. Tune into your customer needs in a timely, relevant manner and your brand loyalty will skyrocket.
It's a show you'll never get tired of watching.