Marketing automation is a vital tool for reaching your audience in today's digital world. It facilitates the process of capturing, nurturing, qualifying and closing leads.
Agree? Of course you do. You've bought into marketing automation, you drank the Kool-Aid. But there's a problem. You've created valuable content, set up email campaigns and associated workflows, built personas, and segmented your lists appropriately… but you're still not enticing your audience to engage. Why?
Because your audience is a herd of cats. That's why. Let me explain.
Understanding Your Audience
Dogs are great. They provide unconditional love and unwavering loyalty. Hanging out with your dog is like hanging out in the ultimate no judgement zone. Want to lay on the couch all day? Great! Want to run a 5K? Great! Dogs didn't get the title 'man's best friend' by being manipulative creatures that only bear a semblance of affection for personal gain. No, that's the cat's job. (If you happen to be a cat lover, please just bear with me through the metaphor.)
Cats are aloof. They value their independence and learn from past experiences. They do not respond well to commands. If you give a cat a new toy, nine times out of 10 that cat will walk the other way and then make eye contact with you as it plays with a different object of its choosing. Ouch. In this scenario, the cat has all the control, and you are left feeling hurt and powerless.
This cat is your audience.
Your audience is not like the family dog. It will not love you unconditionally. It will not wait patiently for you to send a new email and bark with delight each time you create a new piece of content. Your audience is cautious and temperamental, but for good reason.
The past decade has taught consumers that if they provide personal information, companies will spam their inboxes, hoard space on their social feeds, and intrude on every facet of their digital lives. As a result, even if you're creating super valuable content that could help your audience achieve important goals, they probably won't stick around if they're required to fill out a form or even just click on a link.
I've experienced this problem first-hand. I've sent emails, promoted my content on social media, and even personally reached out to active users. My results? By trying to force my audience to engage, I ended up watching my traffic flatline, my conversion rates suffer, and my unsubscribe rate spike. It was at this point that I realized I needed to step back, reassess my efforts, and start treating my audience like the un-herdable cats they are.
Experiment
Treat audience like cats.
Hypothesis
If I treat my audience like cats, I will see increased blog traffic.
Process
How did I plan to 'treat my audience like cats'? As a cat owner, I know the best way to get a cat interested in an item is to place it in his or her line of sight and then walk away. In most cases, your apparent lack of interest in the item will in turn peak the cat's curiosity.
With this in mind, I identified three popular digital marketing forums (inbound.org, Reddit, and FlipBoard) that had no association with my company and which are hotspots for article distribution and discussion. I then created the blog post 7 Things Marketers Need to Know About Marketing Automation and joined discussions surrounding this topic.
In these discussions, I provided opinions, asked questions, offered solutions, and even promoted educational content unrelated to my company. Once I solidified myself as a reliable source, I dropped the 7 Things blog post into a few of my comments and walked away.
Important Note: I only added a link to my blog post where it was relevant to the discussion or when it provided value to the group. I never spammed a forum.
By organically recommending my blog post as a valuable resource, I was able to facilitate thoughtful conversation around the topic and drive traffic to my site where the blog is hosted. I began seeing traffic spikes on my own site as well as additional success and shares on the forums where I originally posted the link. By earning the trust of the group, placing the blog post in their line of sight, and then walking away to let them check it out on their own accord, I attained success that would not have been possible through emails and social posting alone.
Results
Using SharpSpring marketing automation, I was able to measure the success of my blog syndication campaign based on three components: analytics, referrals, and form fills.
Analytics
SharpSpring provides analytics dashboards so you can track the success of your on-site and off-site efforts. I used these dashboards to evaluate the 7 Things blog post against a previously published post entitled Small Businesses: Don't Get Boxed Out by Mobile-First (published 30 days prior to the 7 Things post).
It is important to note that neither of these posts was promoted through email. Both were syndicated on social media – the only variable being that the Small Businesses post was not promoted on relevant third-party forums. As can see in the graph below, it didn't drive a substantial amount of traffic, despite being well-written and offering valuable information.

Web traffic analytics for Small Businesses: Don't Get Boxed Out by Mobile-First
During the 30 days after this post was published, the site received 786 total visits and 1,702 total page impressions, and users spent an average of 2.9 minutes on the site before leaving.
The spike in traffic between December 20-22 was a result of a holiday email we sent to clients and associates.
The 7 Things blog post, which was published on December 27, produced very different results. As you can see below, site traffic began to climb immediately after we published the post, and throughout the month our traffic experienced peaks and valleys that mirrored our efforts to promote the blog.
Web traffic analytics for 7 Things Marketers Need to Know About Marketing Automation
During the 30 days after this post was published, the site received 1,240 total visits and 2,571 total page impressions, and users spent an average of 5.4 minutes on the site before leaving.
Here's a breakdown of the results:
• Total site visits increased by 57.76%
• Total page impressions increased by 51.06%
• Average time users spent on site increased by 86.21%
Referrals
The next thing I did to measure my success was to look at referral data. I will be the first to say that our site referral numbers started off weak, but that's because we were putting zero efforts into boosting them. (We are a digital marketing agency focused on the success of our clients. Much like a mother puts the needs of her children before her own, we put the needs of our clients first and our agency needs second.)
Once again, I used the 30 days after November 28 as my baseline to track results for the Small Businesses blog. It looked like this: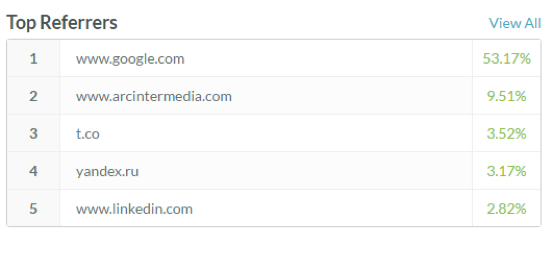 Not great.
But as soon as I began promoting and diversifying our assets on inbound.org, Reddit, and FlipBoard, our referral data began to look like this: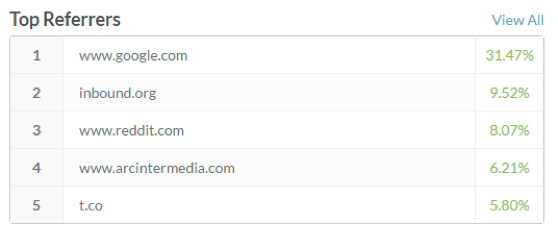 These three sites had previously referred zero visitors to our site, but in the span of 30 days, inbound.org and Reddit jumped to the second and third positions, and FlipBoard is our 7th top referrer at 3.66 percent.
We're now receiving 21.25 percent of our traffic from sites that had not previously referred any visitors. We are no longer trying to herd cats. Instead, we're strategically placing content and allowing the cats to come to us.
Form Fills
In the 30 days after we began promoting our blog post on forums, we saw a 200 percent increase in blog subscriptions – our form of choice for this particular section of the site. Visitors who had previously been unaware of our existence saw value in our content and, like a cat to catnip, wanted more. That's certainly a win.
Strategy with Automation
After performing this experiment, I realized the reason I hadn't had immediate success with marketing automation alone was because I didn't have the trust and interest of the people I was automating to. I needed to stop focusing on bringing the audience to my site and instead travel to where my audience was choosing to spend its time.
By doing this, I showed that my true intention was to provide value and not just to promote content – and I was much more successful as a result. Once visitors engaged with my content and freely provided their information, I was ready to segment, automate and nurture each lead.
I was also successful because I used marketing automation to track and assess my efforts. If I had been unsuccessful in promoting my blog post in one of the three forums, I would have had the data to support a decision to move away from that forum or that tactic all together.
Marketing automation also allowed me to see whether the people visiting these blog posts were current customers, leads or new visitors, and then track how they moved through the site. It's vital to know what your customers and new visitors are interested in and what pages of your site they each find most important.
Remember that just like cats, your audience doesn't want to be forced to do anything. Stay in their line of site, continually provide value to their lives, and let them come to you.