You may have already seen SharpSpring's Card Trick, but here is some more magic that you can do with SharpSpring.
Christmas is not just for miracles; it's also the best time for presents! As digital marketers at Demodia, we wanted to try out something different last Christmas with our latest marketing platform, SharpSpring. Something that would help us find some new clients, engage with our audience, and increase our site traffic. And, as fun-loving people, we wanted to do something entertaining along the way.
Without further ado, here is our magic trick. Oh, and of course to do this you will need a gorgeous assistant – we call ours SharpSpring 😉
The trick
Magic is one of the oldest performing arts in the world: audiences are entertained by tricks, illusions, and seemingly impossible things. To entertain and engage our audience, we knew we needed the illusion of simplicity at the front end, but with a powerful platform like SharpSpring working behind the scenes. The Wheel of Fortune idea came to us as effortlessly as a rabbit comes out of a magician's hat.
It worked like this:
A visitor is invited to a landing page containing the wheel
After registering, he/she is allowed to spin the wheel
The visitor gets three chances per day to spin the wheel and claim prizes
To encourage people to visit the site more often, we updated the list of prizes weekly and made sure that we included a few big ones. We had four big prizes as well as a bunch of smaller ones. These included things like:
Website audit
Content assets inventory spreadsheet
Marketing calendar
Various expert guides
Free Prospecteer subscription for 6 months
Free SharpSpring subscription for 3 months
Hocus pocus, there we are all set to go!
The performance
To get things started, we needed the spinning wheel. Since Flash is dead, we wanted to develop a microsite where the layout was completely based on HTML and CSS. Contact us if you want to know the techie stuff – we would love to share the insights with you.
Marvel in awe as the illusion unfolds!
In order to spin the wheel for the first time, visitors had to provide us with some information about themselves. But even before any initial registration form was presented, we used a bit of JavaScript trickery to check in with SharpSpring and establish whether a visitor was already an existing contact. If so, they were sent straight to the wheel. If not, they had to complete a simple registration.
Once they were ready to go, they could click on the big "Spin Now" button and another piece of JavaScript started a CSS animation to set the wheel spinning and randomly decide which prize the visitor would receive.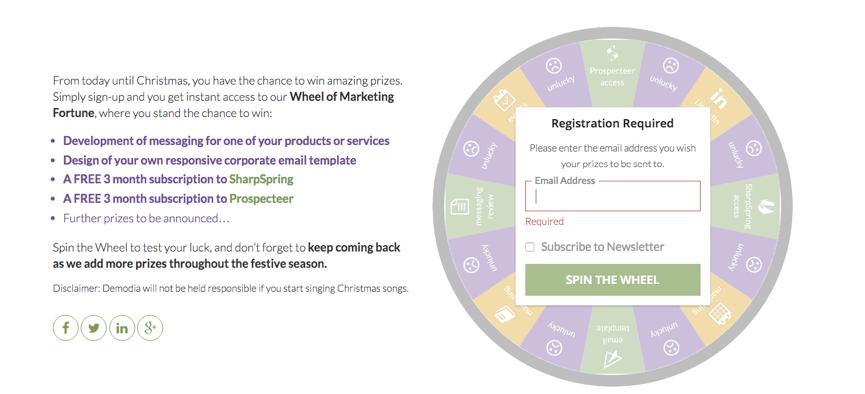 If the participant landed on a prize segment, a second form appeared asking for additional information such as their name and company (progressive profiling is a good thing). Just like before, if we already knew this info then we didn't ask for it again. Some further JavaScript and a cookie allowed us to track the number of tries each visitor got every day during the campaign.
To pull it all together, we added a little WordPress mystery, and 'hey presto' – there was the front end all ready to go.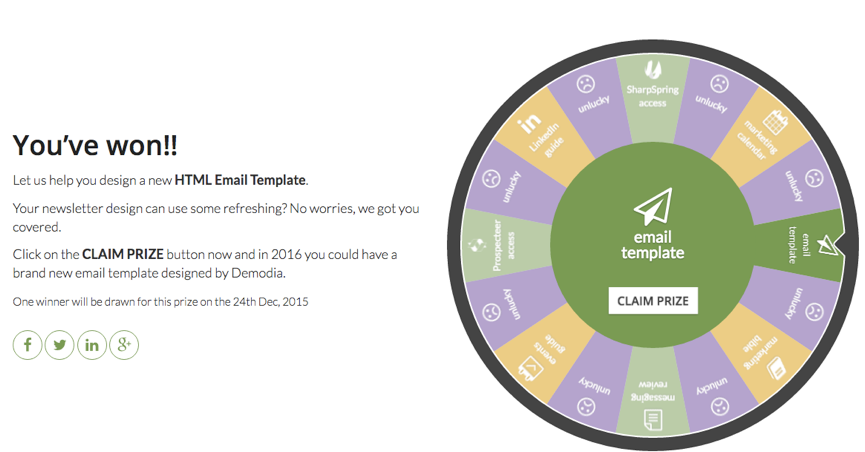 Behind the scenes, we used SharpSpring to send out the "Welcome," "Thank you," and "You Won!" emails. This involved creating several workflows and tasks. As visitors clicked on the "Claim Prize" button, a hidden form was submitted and a workflow was triggered to send out the appropriate email notification based on which prize they had won. Winners were also separated out and added to lists, so that we could track who had won what prize.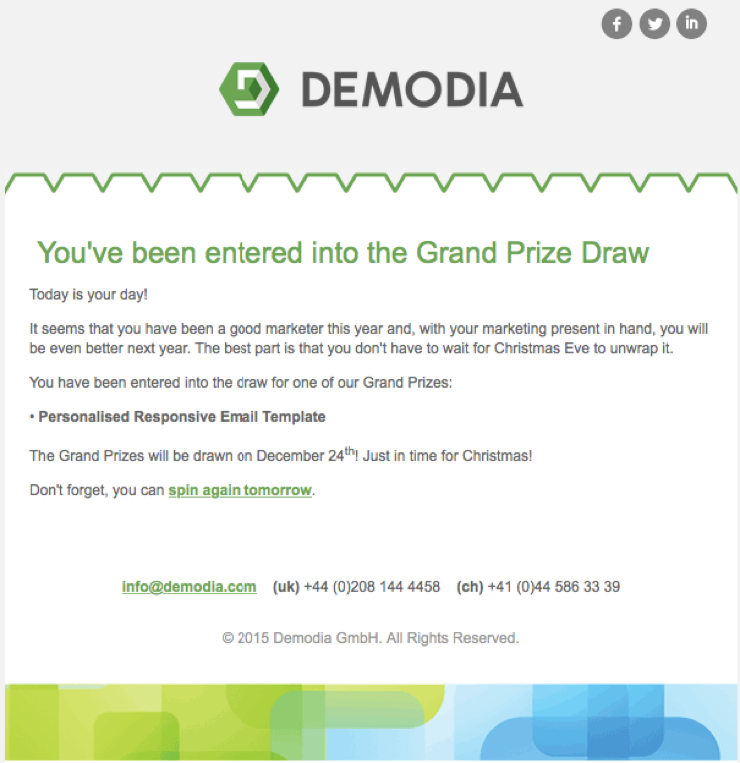 The applause
Throughout the duration of the competition, we greatly increased the amount of traffic coming to our website and ultimately generated more than a dozen new opportunities. The landing page was promoted heavily through our social media channels, and we also sent out emails to our internal mailing lists each time a new prize was added.
Since the competition closed, we have continued to nurture those leads, sending them new whitepapers and resources from our website. Many have also become regular subscribers of our blog.
Lessons learned
Santa does not always bring the best presents, but magic tricks still captivate the audience's attention.
Go big with giveaways. We found that size does matter when it comes to gifts, especially in marketing. Offering your expertise may seem to have the greatest possible business value, but sometimes people need something more material. Like free marketing automation.
Constantly. Having a tech-savvy project manager is not something all companies can afford, especially smaller B2B companies. The only reason this project got done on time was the constant communication between the people involved.
Use social media. Most of our new traffic came from sources like Twitter and LinkedIn.
Give yourself time. In all, this campaign took around two months to conceive, develop, line up prizes, etc. You will make errors and you need to allow time to test with a few volunteers before you launch.
Show your work to external people. What you think works in house may not really resonate with your external audience, so listen to their feedback.
Have fun! Who said B2B marketing should be boring?
To learn more about how Demodia and SharpSpring work together to turn contacts into more than contracts, download the case study here.