At SharpSpring, we put agencies and their brands first. We constantly work at creating the most affordable, powerful marketing automation platform in the world with agencies in the forefront of our minds, putting tools and knowledge into agencies' hands with the features they need to stay ahead and drive revenue.
I truly see our job as empowering and enabling agencies to perform at ever-higher levels: building engaging digital experiences, increasing conversions and, let's face it, helping them move the needle on the bottom line for themselves and their customers.
I also believe we should never stop learning, so I wondered if I might be able to gather some gems of wisdom from marketing automation masters. Would agency principals be willing to share a story or two about the "WOW" moments — the "Aha!" or "Eureka!" moments — with regard to their agency or their clients and marketing automation firing on all cylinders?
"Most of us have experienced 'wow' moments. We just haven't taken time to think deeply about them."
– Michael Hyatt
I'm proud to showcase the following agency masters and their marketing automation tales. Sometimes the simplicity of what they have learned is truly inspiring.
By the way, if you are interested in learning about what SharpSpring can do for your agency, remember… we built our entire company around marketing agencies like yours, and it affects everything we do. If you're a corporate marketer who needs help, you can work with one of our incredible agency partners to achieve your marketing automation goals. So go ahead and sign up for a demo. You might just end up becoming a master yourself and making your story one of our next great moments in marketing automation history.
I'll be sharing more success stories these periodically. If you have a story you feel should be shared and are looking for an opportunity for a sweet, shameless plug for you and your agency, bring it on!
---
Marketing Can Provide Sales With Their Best Leads
Magee Clegg | Managing Director, ClearTail Marketing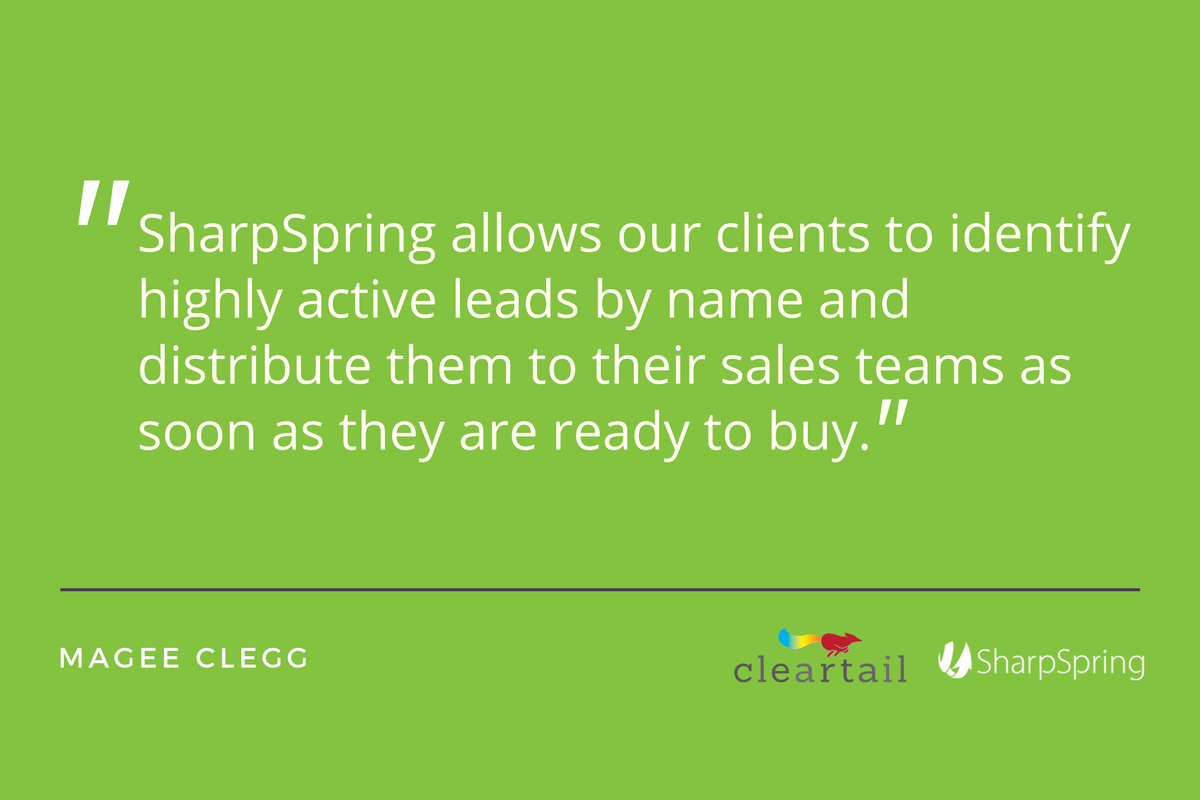 At ClearTail Marketing, we often start with companies whose sales and marketing teams are completely divided. But after implementing a basic foundation for marketing automation, we see a wonderful transition to a thriving relationship where mutual respect for the other side is firmly established.
SharpSpring allows our clients to identify highly active leads by name and distribute them to their sales teams as soon as they are ready to buy. Sales teams now rely on marketing for generating their best conversations, and marketing can see if the sales team is actually following up.
Not only is marketing automation bringing sales and marketing teams closer together to generate amazing results, but we are also seeing increased engagement with CRM tools now that sales reps have leads with an incredible amount of information logged in their portal.
Learn more about Magee's results in this article.
---
Marketing Automation Can Redefine the Meaning of a "Lead"
Tom Huggins | COO and Co-founder, Greenroom Digital
We're a sports marketing business that provides digital sponsorship activation services to some of the largest brands and industries in Australia.
We've used marketing automation to bring accountability to an industry in desperate need of validation. Focusing on data capture, profiling, and a targeted 'right time, right message' approach to communications has driven measurable results using content aligned to sporting partnerships to increase conversions.
The brands that engage our services now have a clear line of sight on the power of their sporting partnerships and insights delivered via SharpSpring – which has led them to implement this high-performing approach to their wider businesses.
We have managed to get major industries to rethink the way they classify success and unlock wider opportunities previously missed. For example, our automotive partners had a strict interpretation of a 'lead' until we uncovered that 59% of respondents displayed strong purchase intent despite indicating they didn't plan to buy a vehicle for at least 12+ months. Basically, we've unlocked a large group of leads that had previously been ignored.
Through a strategic approach to marketing automation, SharpSpring allows us to get our partners into a position to completely rethink their approach to digital.
---
Learn to Leverage Marketing Automation for Your Own Sales Pipeline
Niall Durkan | President and Founder, Durkan Group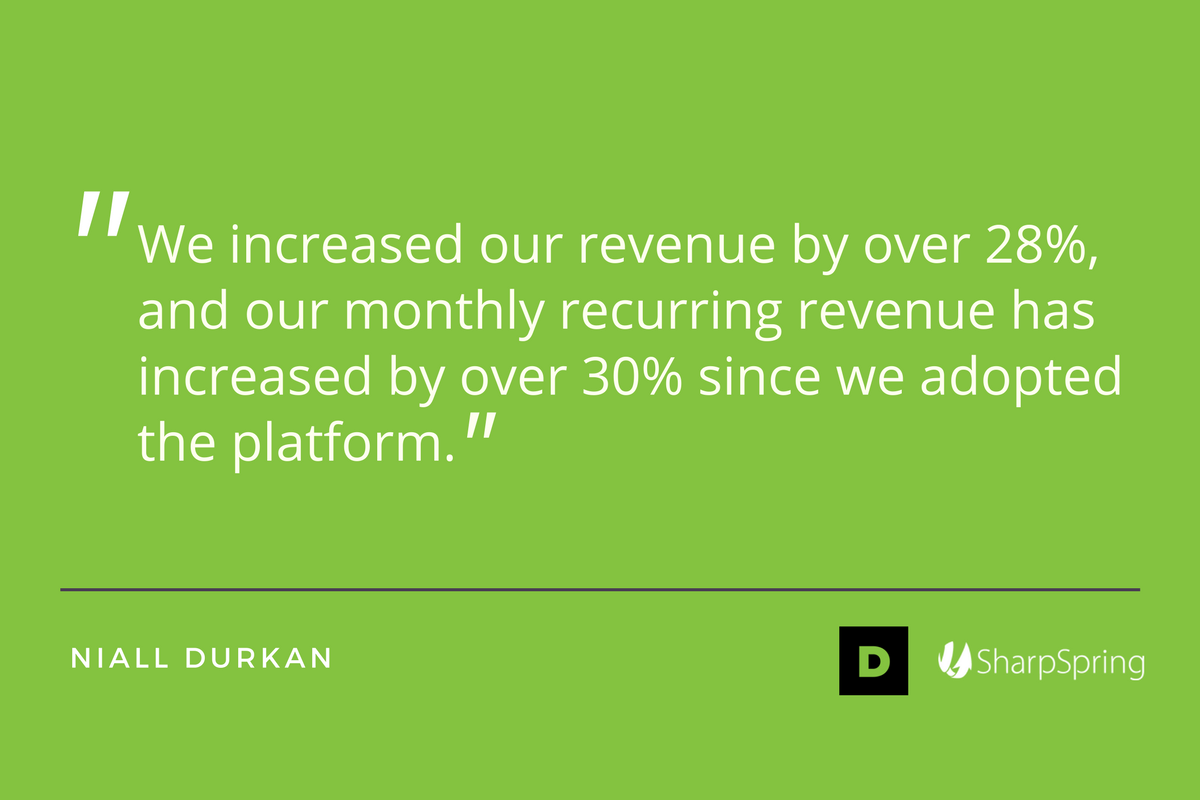 Marketing automation enhances many areas of our full-service digital agency, but using anonymous site visitor tracking (VisitorID) ties directly to our agency bottom line. We can view the visitor journey, look back at the visitor's site and, between the two, quickly identify a hot prospect for our own agency.
When we find one, the hunt is on! It's a little like pheasant hunting. VisitorID is the scope on the gun, targeting and focusing in on the companies interested in us. Then I'm like a bird dog, searching, tracking and ultimately bringing home the prize. In our first full year using SharpSpring, we increased our revenue by over 28%, and our monthly recurring revenue has increased by over 30% since we adopted the platform.
Of course the goal is to set up a meet-and-greet. When I meet the client in person, the first question I typically hear is, "How did you know I was on your website?" And this is the perfect way to introduce the new client to marketing automation, along with our services.
Learn more about Niall's hunt in this article.
---
Monitor, Analyze, Pivot Your Campaign in Real Time to Exceed Goals
Mark Heninger | Digital Strategist, Prove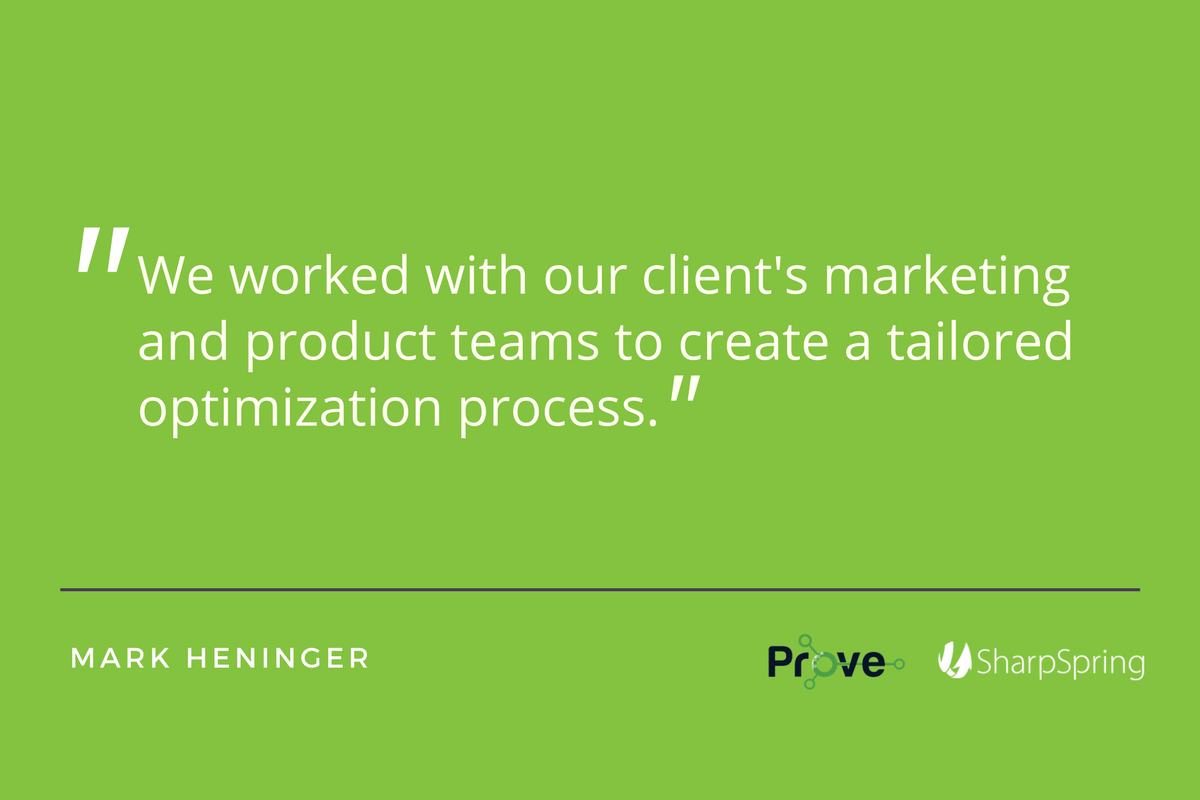 We had two "Aha!" moments in marketing automation…
The first was when we discovered people who bought higher-quality items would spend more money on additional quality products. We developed a scoring system for new and repeat visitors. Visitors who chose cost over quality were assigned a lower score. For visitors who chose quality over cost, we assigned a higher score and triggered additional product offers that would be logical upsell products.
The other "Aha!" came when we set up dynamic emails based upon what users bought and instantly sent them custom product recommendations to their inbox based on that audience scoring system.
The client's current paid media digital campaigns were not delivering the results they wanted and were not meeting their goals. They wanted to rapidly set up and optimize category campaigns for each of their product categories. They also wanted us to determine whether they could have pay per click (PPC) market share with a 3x return on ad spend (ROAS) in just 60 days.
Prove worked with the client's marketing and product teams to create a tailored optimization process. We set up 30 campaign categories within four weeks. Our approach included setting up the following best practices to ensure the desired results during a rapid ramp-up: Keyword List Creation; Campaign Settings (search, targeted, etc.); a Targeted Ad Group; Ad Copy Recommendations; an ROAS Daily Optimization Approach; and Tracking and Reporting.
The results exceeded our goals handily. The client's revenue increased by $225,000 per year, and their ROAS vaulted to 5.4 times their advertising spend.